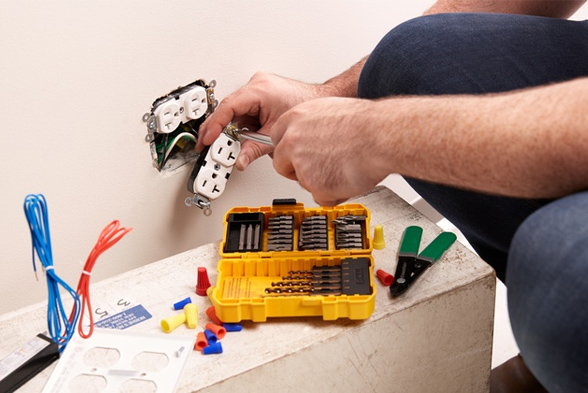 Electrical Repair
Your Local Electrician — Lighting Up the Dark
For all electrical repairs, there is only one name that should come to your mind and that's ours! Whether an electrical issue is small or big, residential and commercial property owners can count on us to show up on time. Our electrical repair service helps reduce the risk of fires due to a malfunctioning electrical system.
We Can Put Out a Fire Before It Even Starts
Our team consists of licensed, certified, and insured electricians. We only hire the best because you deserve the best. If an electrical issue is stressing you out, then let us take away the stress by resolving it quickly, efficiently, and properly.
Our Electrical Services
Contact us for one or more of the following electrical repair services:
Ceiling fan installation
Lighting installation
Circuit installation and upgrades
Electrical outlet replacement
Electrical appliance installation and repair
Electrical wiring installation and upgrades
Surge protection installation
Childproof outlets
Commercial electric service
Electrical panel and breaker replacement
Generator installation
Smoke detector installation
Electrical spa, pool, and jacuzzi wiring
And more
Do not call us just for electrical repairs, but call us for routine electrical maintenance. We can come in to inspect your electrical system to ensure everything is in order. If it is not, we can fix it right there and then. Do you know what this ensures? A bigger electrical problem will not even have a chance of rearing its ugly head. It will cease to exist because we put an end to it. You can also become proactive by noticing signs that tell you that electrical repair is needed.
5 Common Signs to Look for
The following signs indicate that you need to call us to inspect your electrical system to detect the problem and fix it:
Electrical System Failure usually occurs in homes and buildings with outdated electrical systems. For the modern owner who uses several devices, they will need to replace their electrical system with one that can handle the load. Otherwise, their electrical system will turn off several times each day.
Flickering or Dimming Lights occurs when your electrical system cannot handle a load of several appliances at one time. This causes your lights to flicker and dim.
Using Many Extension Cords creates a dangerous situation for the occupants of the property. It causes people to trip on wires, thereby causing machines or appliances to turn off. It can also lead to a fire. Install more outlets than using more extension cords.
Warm Switches and Outlets means there is a lot of load on your electrical circuit. If a switch or outlet feels too warm or hot, it can result in an electric shock. Rewiring certain parts of the property is the solution.
Expired Electrical Systems can cause a fire. Upgrading your electrical system with a state-of-the-art electrical system can reduce the risk.
If you require our electrical repair services in Moreno Valley, CA, contact us at
951-385-5046
for your free estimate.
our services
request a callback