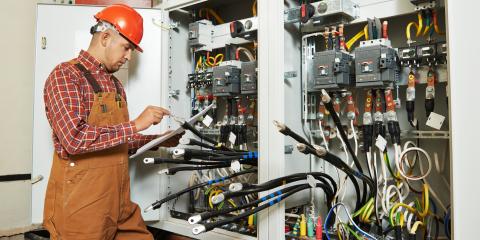 Keeping Businesses Running Throughout the Day We have become a known name among restaurants, educational institutions, retail stores, and other commercial buildings for our high quality and dependable commercial electrical services. Performed by our licensed, certified, and insured electricians, we promise to give you a reason to call us again. For many businesses, we have become the go-to electrical service provider. Your business needs to run throughout the day and electrical issues can erupt at any time, causing business activities to come to a halt. With us around, your business will continue operating. You never know when an electrical problem might strike and having an electrical company like ours to depend on to fix it when an emergency arises will put you at ease.
Our Commercial Electrical Services
Our commercial electrical services include:
New Construction
Remodel and Renovations
Retrofit Lighting
Tenant Build-outs
Electrical Maintenance
Generator Installation
Surveillance System Installation
Parking Lot Lighting Maintenance and Repair
Dedicated Circuits
Sign Repair
Energy Management
And More
We Minimize Interruption and Perform Electrical Repairs Quickly
We will take adequate measures to minimize interruption while performing electrical repairs. What about the cleanup? — Let us worry about that because we know you have your hands full. Our expert electricians will clean up and remove the mess and all debris from your commercial property. We understand your time is valuable and every second your business stays inoperable, it means loss of profit for you. We have a way around that and that is called prompt commercial electrical service. Our electricians will always arrive at your property at the scheduled time.
With Us Around, Your Business Will Not Pause, but Only Grow
Our electricians have worked on several types of commercial projects. When you hire us, you can rely on us to ensure everything is up to code. We will maintain the highest standard of safety and quality throughout the job. You can contact us for office builds for new and existing installations, dock wiring and lighting installations, retail build-outs in free-standing kiosks and malls, restaurant and foodservice installations, apartment and residential complexes installations, and more.
Commercial Businesses in Need of Reliable and Trustworthy Commercial Electrical Services Can Call Us
As a business owner, you need to take calculated risks. With electricity being such a huge component of your business, taking that risk with the wrong electric company can cost you both time and money. We will deliver results and we can guarantee a job well done. You will not regret choosing us for all your commercial electrical needs. Commercial businesses in Moreno Valley, and nearby areas can contact us at
951-385-5046
for their free estimate.
our services
request a callback