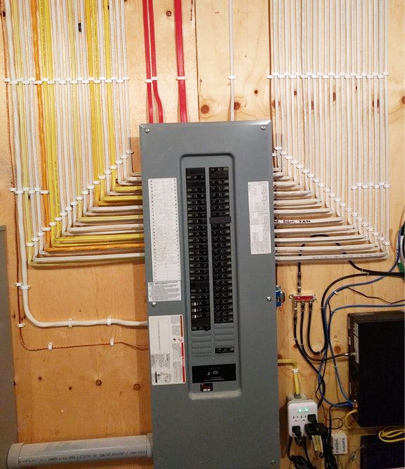 Your Electrical Panel is the Heart of Your Home. When It Stops Working, Its Lights Out Your electrical panel gives life to your home. If it starts acting up or stops working, it disrupts your entire life. When it begins to act up is when you call us. Our certified, licensed, and insured electricians will visit your home to inspect your electrical panel to determine the type of panel you have, diagnose the issue, and then upgrade it.
3 Types of Electrical Panels
The type of electrical panel you have installed in your home depends on the size of your home and the amount of electricity you use.
The Main Breaker Panel shuts off the power to your house. Your home receives a large amount of electricity from the main breaker panel. This panel protects the circuits and determines the amperage capacity of the panel.
The Main Lug Panel does not have a main breaker. It has line wires that run into lugs. In the event of an emergency, such as a fire, you can turn off the power to your house using a separate panel installed outside your home.
The Sub Panels is for customers that require several circuits installed in one area of their home. A circuit located in the main panel powers the sub panels. You cannot turn them off, but you can adjust the amount of electricity the panel distributes throughout your property.
The Type of Panel You Require or Need to Upgrade Does Not Matter. What Matters is Who Performs the Installation and Upgrade
Our electricians have complete understanding and knowledge of how to install and upgrade different types of electric panels. We can guide you into choosing the right type of panel for your home because choosing the wrong type can lead to problems. Avoid electrical panel issues by working with the right electrical company in Moreno Valley, CA, and nearby cities.
Does Your Electrical Need a Checkup?
Your electrical panel requires a checkup if one or more of the following is true:
It is more than 25 years old
Crackling sounds from your electrical panel
Rust and corrosion on the circuit breakers
Electric panel feels warm
Appliances are operating at less than full power
Outlets near water sources and are not Ground Fault Circuit Interrupters (GFCIs)
Using several extension cords
Home has a 60-amp electrical service
Home has a 100-amp electrical service, but still unable to operate certain appliances simultaneously
Have an old home that has a split-bus panel or fuse block panel with no main breaker
What Does Our Electrical Panel Upgrade Include?
Our electrical panel upgrade includes:
Main breaker, main lug panel, and sub-panels upgrade
Meter base repairs and replacements
Service mast repairs
Weather head replacement
New grounding systems
Label circuits on existing panels
Residents of Moreno Valley, and surrounding areas can contact us at
951-385-5046
for a free estimate.
Get an electrical panel upgrade before it can damage your property.
our services
request a callback