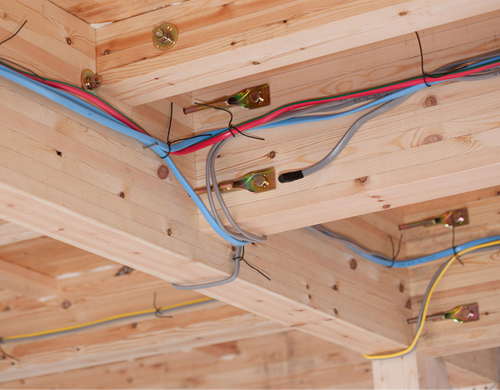 Upgrading Outdated Wiring Systems to Make You Feel Safe and Sound Your home is your sanctuary. Outdated wires can turn your sanctuary into a danger zone. How can you find out if your home has become a no-go zone? Here's how:
Are your lights flickering or dimming when you turn on appliances?
Are your circuit breakers tripping several times during the day?
Do you see exposed wires in the floor, walls, or ceiling?
Do you experience power loss when you use several appliances?
Has your panel been recalled?
Are your porcelain fuses heating up?
Is there a lack of grounding for your high voltage appliances?
What Happens When You Let These Issues Continue?
Poor wiring can burn your house and put your family in jeopardy. You can prevent that by noticing these signs and calling us for rewiring. We will replace the wires in your house with premium quality wires. However, any electrical company can replace the old wires with high-quality ones.
But will they do a good job? — That's a question you need to be asking yourself when hiring.
When you have us, no need to question. We have built long-lasting relationships with homeowners and business owners in Moreno Valley, and surrounding areas. You can trust our electricians with your home.
Planning a remodel? Call us!
Developing a new construction? Call us!
Have outdated wiring? Call us!
Dealing with faulty wiring? Call us!
Why Do You Need an Electrical Wiring Upgrade?
You will need an electrical wiring upgrade for the following reasons:
Renovations and Remodels – Remodeling projects allow you to bring your electrical wiring system up to code. Most renovations require installing appliances or new electronics, which place excessive load on your property's wiring system. We can install new wires to ensure that every electrical appliance has enough power to function properly. When the walls, floors, and ceilings are easily accessible, rewiring upgrades cost less.
Electrical System Upgrades – Older homes require a service of 100 amps or less. Even though this may be enough for most homes, HVAC systems, pool pumps, and extra appliances may need more power. We will replace your service panel, which is usually a part of an electrical rewiring update.
Property Damage Repair – Storms, fires, and flood damage can affect your property's electrical system. We can perform a complete inspection of your home's electrical system to determine if it has been compromised after an unforeseen event.
We Are Rewiring Pros! Doing Rewiring Right the First Time Around!
If you are in the middle of a remodel or your wiring is not up to par, do not delay calling us over. Our certified, licensed, and insured electricians will visit your home to inspect the wiring of your property and replace it promptly. You can contact us at
951-385-5046
if you reside in Moreno Valley, and surrounding cities for your free estimate.
Because the longer you delay, the riskier the situation gets!
our services
request a callback